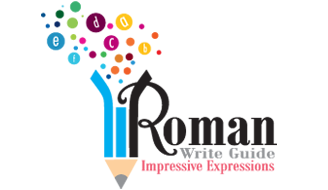 A person's handwriting is a reflection of one's own personality. A good handwriting often symbolizes positive attributes like dedication, meticulous approach, self confidence and unison of purpose.
Possession of a good handwriting is still considered as a life skill even in today's age of electronic data processing.
Romans Write Guide is a carefully sculpted program that aims at gradual skill ability in children of 3-5 yrs group and progressively introduces them to cursive writing and calligraphy at age 6 and 16 respectively.
Print Style-Age-3-5yrs-Basic Strokes, Stroke Patterns, Trace models, Letter and Numbers, Activities, Word formation etc.
Cursive-Age-4yrs&above-Stroke Patterns, Paper & Pencil Positions, Tracing Letter Models, Letters in dots, Numbered Stroke Arrows, Letters & Numbers, Words & Sentences, Self –Evaluation Boxes etc..